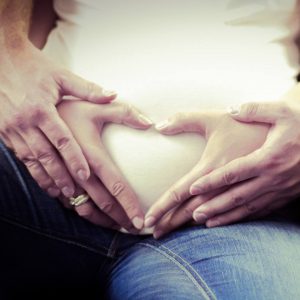 Hypnobirthing is a method of mindset management that can be used to achieve a calmer and less painful labour and birth, significantly reducing the likelihood of medical interventions. It involves using a mixture of visualisation, relaxation and deep breathing techniques.
The theory behind hypnobirthing is that fear and tension cause most of the pain in labour; if then you are able to reframe negative feelings towards giving birth you can help reduce your pain.
Importantly, by staying calm and relaxed your allow hormones such as oxytocin and endorphins to flow freely in your body, which is essential for more efficient and more comfortable labouring. A state or worry or anxiety will in turn inhibit these hormones, encouraging other unhelpful hormones to take over, creating resistance in your body to birth.
Laura teaches The Mongan Method of hypnobirthing which is highly regarded as one of the best.
Sessions are 2.5 hours long, 5 in total. They are spread over 5 weeks in order to ensure maximum benefit and time to prepare however if time is short please let me know and we can arrange something to fit in with your schedule.
Included in the fee is your book, MP3s, a folder of handouts, goody bag and refreshments as well as access to me both before and after the birth.
With this complete antenatal class, you will leave fully prepped for birth whichever shape or form it takes.
Course outline: 
Unit 1: Building A Positive Expectancy

• Introduction to the remarkable HypnoBirthing™ philosophy
• The History of Women and Birthing
• Why and how you can have an easier, more comfortable, and safer birthing
• How Nature perfectly designed women's bodies to birth
• How to assist, rather than resist, your natural birthing instincts
• The vocabulary for calm and gentle birthing.
• Visualising gentle births by viewing beautiful birthing videos
Unit 2: Falling in Love with Your Baby/Preparing Mind & Body
• The remarkable mind of your newborn baby—Prenatal bonding techniques
• Rapid and instant self-relaxation techniques and deepening techniques
• Breathing techniques for labour and birthing
• Hypnotic relaxation and visualisation
• Selecting the right care provider
• The Birth companion's role in birthing
• Preparing your body for birthing with massage and toning
Unit 3: Getting Ready to Welcome your Baby
• Preparing Birth Preference Sheets
• Preparing the Body for Birthing
• Light Touch Labour Massage
• Your body working for and with you
• Avoiding artificial induction and achieving a natural start to labour
• Releasing negative emotions, fears and limiting thoughts.
Unit 4: An overview of Birthing – A Labour of Love
• Onset of Labour – Thinning and Opening Phase
• Birth explained simply
• Settling in at the hospital or birthing centre
• Preparing for home birth – or baby's choice of birth
• As labour moves along – passing time through labour
• Hallmarks of labour
• If labour rests or slows – Companion's prompts and activities
• As labour advances – birthing with your baby
• Protecting the natural birthing experience
• Birth rehearsal imagery
Unit 5: Birth – Breathing Love – Bringing Life
• Moving into birthing
• Positions for descent and birthing
• Breathing baby down to birth
• Baby moves to the breast
• Family bonding with your baby
Limited spaces are available to ensure a high quality – early booking is recommended